http://people.stern.nyu.edu/adamodar/pdfiles/eqnotes/privateequity.pdf
GrocerGram will using the private equity funded buy and build value creation strategy eat instacart, skip-the-dishes, and the whole damn value chain is ours bitch go ahead hahah ... try stopping us OF8 Unlimited Infinite
THERE IS A MARKET CAP FOR EVEYTHING YOU TRADE BE IT FIAT CURRENCY(S), CRYPTOCURRENCY(S), COMMODITIES, SECURITIES, BONDS, SEA SHELLS ETC. ETC. . .
Market capitalization for our purposes here refers to the sum net total supply of value in whatever form (e.g. market capilatization of a given equity is easy :
"Market cap—or market capitalization—refers to the total value of all a company's shares of stock. It is calculated by multiplying the price of a stock by its total number of outstanding shares. For example, a company with 20 million shares selling at $50 a share would have a market cap of $1 billion."
Market Cap of a currency lets use USD$ for this example
What is the market cap of the US dollar?
$30,436,313 million
United States of America - Market capitalization of listed companies in current prices. In 2018, market capitalization for United States of America was 30,436,313 million US dollars.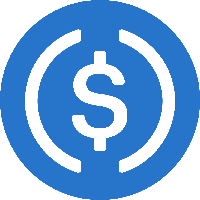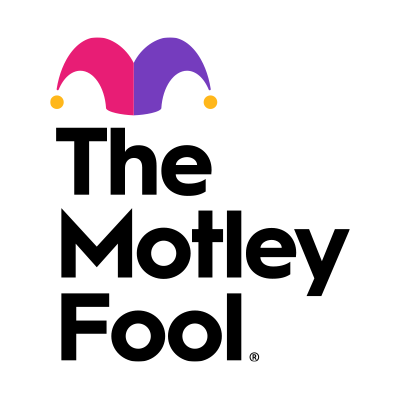 What is Bitcoin's market cap?
$600 billion U.S. dollars
Bitcoin (BTC) market capitalization as of February 21, 2021. In January 2021, the Bitcoin market cap reached an all-time high and had grown by over 400 billion U.S. dollars when compared to the summer months. The market capitalization currently sits at more than 600 billion U.S. dollars.

• source = Bitcoin market cap 2013-2021 | Statistawww.statista.com › bitcoin-market-capitalization
THERE IS ONLY SO MUCH TOTAL GLOBAL VALUE REFLECTED IN CIRCULATING  NEGOTIABLE CONVERTABLE FINANCIAL INSTRUMENT(S), INVESTMENT VEHICLES, DEBT STRATEGIES, AND EASY TO PREDICT MIN-MAX INTREST RATE PARAMETERS. INVESTOR CLUSTERS OF INSTITIONAL FUNDS BEHAVE IN PREDICTIVE BUY/SELL PATTERNS REACTIVE TO INDIVIDUALS AND OTHER SMALLER INVESTMENT GROUPS .
USING DATA VISUALIZATION MODELS AIDED BY ARITIFICIAL INTELLIEGNCE POWERED MACHINE LEARNING MODELS THAT LEARN TO UNDERSTAND THE FRICTION POINTS IN EACH TRANSACTION AT EVERY LEVEL OF VALUE OVER EVERY TIMELINE. WE HAVE ACCESS TO ALL FINANCIAL DATA EVERYONE DOES AND MOST OF YOU ARE STILL LOOKING AT 2D CHARTS OF LINEAR TIME WITH NO REAL UNDERSTANDING OF MACRO-VARIABLES.
EXAMPLE I ENJOY MOST IS TO CONSIDER COFFEE AND TEA SUPPLY AND DEMAND CURVES.  SEEMINGLY INDEPENDENT PRODUCTS WE CAN INVEST IN or apples hahha
This post goes over a common supply and demand shifters in a coffee market context, and how each of the following events will affect market for coffee:

a) a blight on coffee plants kills off much of the Brazilian crop
b) coffee workers organize themselves into a union and gain higher wages
c) coffee is shown to cause cancer in laboratory rats
d)price of tea declines
e) Coffee prices are expected to rise rapidly in the near future

These are all common questions you we see asking about possible shifts in supply and demand and there subsequent effect on equilibrium market price and quantity.  Please check out the posts on supply shifts and demand shifters for a brief review.
First, if a blight kills off coffee plants then we will see a decrease in supply.  This happens because productivity goes down (because the plants are GONE).  Nothing happens to demand, so equilibrium price and quantity both go up.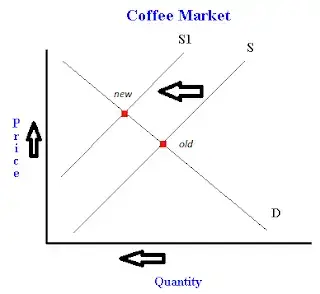 If coffee workers organize themselves into a union and gain higher wages, two possible things can happen.  First, the price of inputs will go up, so supply will shift left (a decrease in supply).  Second, it is possible that higher wages will result in an increase in income which will increase demand (shift it right).  However, occasionally teachers are only looking for this first effect.
In this scenario, if only the price of inputs rises, we will have the same equilibrium market outcome as the blight.  But if income also rises, then we know price will go up, but we don't know if quantity will increase, decrease, or stay the same without more information.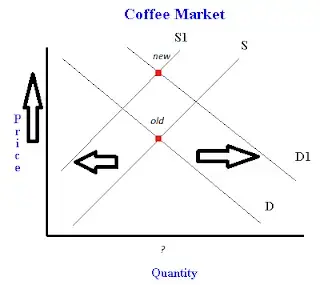 If coffee is shown to cause cancer in rats, then people will be less likely to by it because they may fear that they themselves will get cancer.  This results in a change in consumer tastes and preferences in a negative manner that decreases demand (shifts it left).  A decrease in demand will lower both equilibrium price and quantity.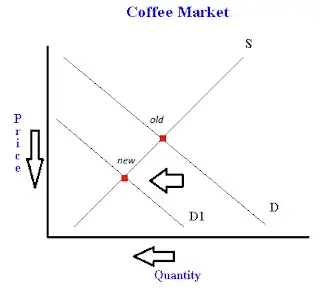 If the price of tea declines, then the price of a substitute for coffee has gone down (if you agree that coffee and tea are substitutes).  Since tea is now cheaper, more people will buy tea, and less will buy coffee.  This results in a decrease in demand for coffee.  The market results are identical to the cancer in rats example.
Finally, if coffee prices are expected to rise in the near future then we will see an increase in demand (because people want to buy now before the price hike) and a decrease in supply (because firms want to hold onto it and sell it later at a higher price).  This results in a rightward shift of the demand curve, and a leftward shift on the supply curve.  The market results here are identical to the union pay increase example above.
THE WONDERFUL THING ABOUT CAPILISM IS EVERYONE IS GREEDY. EVERY TRADING ALGORYTHM OF VALUE HIGH-SPEED OR OTHERWISE IS PUBLICLY AVAILABLE IN COMPLETE WORKING DETAIL FOR ANYONE TO ACCESS REVIEW AND USE THEMSELVES COURTESY OF THE PATENT OFFICES AROUND THE WORLD THAT BY LAW FOR THE PURPOSE OF DEFENDING THE SAME TECHNOLOGY OUTLINED IN PERFECT DETAIL SO IF/WHEN WE USE IT TO CRUSH YOU AT YOUR OWN GAMES YOU CAN SUE US OR THE LLC YOU HAVE AVAILABLE TO SUE THAT HAS NO ASSETS AND IS ORGANIZED IN TRUSTS, OWN BY CORPORATION(S), NGO(S) INCLUDING CHURCHES, MOSQUES, SPORTS TEAMS, CHARITIES, POLITICAL ORGANIZATIONS, TRADE BOARDS AND MORE.....POWER IS IN NUMBERS AND UNITING POPULATIONS LIKE UNIONS TO FLEX ON BIG BUSINESS AND GOVERNMENT AND DOING SO VIA DECENTRALIZED BLOCKCHAIN BASED FRAMEWORK FOR SANCTIONS AND OTHER GOVERNMENT INTERFEERENCE IS IRRELANET UNEFROCABLE AND BITCH IMPERIALISM IS OBSOLTETE
"Description:
Market capitalization, commonly called market cap, is the market value of a publicly traded company's outstanding shares. Market capitalization is equal to the share price multiplied by the number of shares outstanding. Wikipedia"
http://www.fao.org/3/i5220e/i5220e.pdf
Private Equity Transaction Timeline
There are various steps involved in a Private Equity Transaction Timeline. The diagram below shows the different steps in a M&A transaction from the private equity side, along with a tentative timeline.
Steps in a Private Equity Transaction Timeline
1. Teaser Sent by Bankers
One of the first steps of buy-side M&A (in a private equity transaction timeline) is when the bankers send teasers to the Private Equity players. Teasers are documents that contains a brief description of the business, its product and service offerings, and financial highlights. It's called a "teaser" because it doesn't disclose the name of the seller at this point in time, as the objective is to keep the seller's identity confidential in the beginning.
2. NDA Signed
Once the teaser is seen by the PE players and they decide to explore the opportunity, the next step in the transaction timeline is the signing of a Non-Disclosure Agreement (NDA). The NDA restricts the use of confidential information that will be part of the CIM from being used to solicit clients, poach employees, or develop business strategies around it.
3. CIM Sent by Bankers
Once the NDA is exchanged between the seller and the potential acquirer, the bankers share the complete information about the company, including disclosing the identity of the company. The Confidential Information Memorandum contains the investment thesis for the company, an overview of the market and the company, products and service offerings, a revenue profile, employee profile, and financials (historical, projections, and capital structure). The idea of the CIM is that the potential acquirer can look at the company from all perspectives and then decide whether they are willing to buy it and, if so, for how much.
4. Calls with Management Team
When the PE players start looking at the CIM, there usually comes a situation where they require certain clarifications about the company's capabilities, the relevance of their financial projections, relationship with customers, etc. To clarify such issues, the PE firm's senior management gets into a call with the management team of the seller. The PE team is also keen to understand the broad objectives of the seller.
5. Financial Model and Valuation
The acquiring company, based on the financials received in the CIM and based on their own projections about the target company, performs a valuation. The valuation is done based on Discounted Cash Flow (DCF) modeling and looking at the trading and transaction comparables. The valuation becomes critical, as the PE firm must quote valuation to move ahead in the process.
6. Expression of Interest / Non-Binding Offer
The Expression of Interest is a formal offer indicating a serious interest from the PE firm / potential buyer. The EOI expresses the interest of the PE firm in acquiring the business of the seller by paying a certain valuation. The EOI includes the valuation that the company is offering, requirements of due diligence, the type of transition support they would require, the transaction structure, and the approvals needed for the final sign-off. It clearly notes that the offer is non-binding for both the parties.
7. Data Room Access Granted
Once the bid is selected by the bankers, they open the data room for the potential acquirers. The data room is a virtual data room for exchanging and storing data of any type, including financials, legal transactions, organizational structure, marketing plan, employee details, etc. The idea is that the buyer verifies the completeness, accuracy, and capabilities of the company by doing proper due diligence.
8. In-Person Meeting with Management
As the next step in the private equity transaction timeline, senior management from both sides meet in person to discuss the potential synergy benefits they can bring together, the roles they would be involved in post-transaction, etc. They also discuss broad points about the due diligence in this meeting.
9. Letter of Intent
A Letter of Intent is a document wherein major points of the share purchase agreement (SPA) are highlighted by the buyer to the seller. The overall idea is to give a broad understanding of the representations and warranties the buyer is looking for. Drafting the SPA is a time consuming and expensive affair, so with the LOI, the idea is to make the seller ready for broad terms.
10. Exclusivity Period and Final Due Diligence
One of the most important steps in the private equity transaction timeline is the Exclusivity Period and Final Due Diligence. During this period, the potential buyers ask for exclusivity from the investment bankers. The bankers, after discussions with the seller, choose one of the buyers for an exclusive discussion and close out the due diligence process.
11. Quality of Earnings Report
The quality of earnings report is prepared by an independent third-party firm. Analysis is done on the breakdown of revenue – such as product and service mix, geographical mix, customer mix, etc. Various analyses of costs are also done to understand the current trend and future projections. Costs are recognized as fixed or variable costs, recurring or one-time costs, etc. The objective is to assess the true quality of the business and the accuracy of historical financials.
12. Definitive Agreements: SPA / APA
The Share Purchase Agreement (SPA) or Asset Purchase Agreement (APA) are legal documents that record the terms and conditions between two companies that enter into an agreement for a merger, acquisition, divestiture, joint venture, or some sort of strategic alliance. It is a mutually binding contract between the buyer and seller and includes terms and conditions such as assets purchased, purchase consideration, representations and warranties, and closing conditions. The role of the investment banker in this part of the private equity transaction timeline is to make sure both parties reach a mutual accord and close the deal.
13. Shareholders' Agreement and Other Agreements
Once the shareholders' agreement is drafted, other contracts and annexures are also drafted to become part of the final agreement.
Related Readings
Thank you for reading CFI's guide to the Private Equity Transaction Time. To further advance your financial education, the following CFI resources will be helpful:
WHAT'S YOUR NETWORK EFFECT?
January 15, 2018ByGuest
By Cesar Buenadicha, Galia Nurko and Miguel Aldaz*

Businesses are one of the key pieces that build a society's ecosystem and, as such, are increasingly being called to take on more purpose-driven projects that address society's most pressing problems.
In the last two decades, a new transformative toolset, one that provides innovative solutions an avenue to scale rapidly, entered the market— digital technology. These technologies have already revolutionized how we work, engage with government, manage our finances, store our information, communicate with friends, choose where or how to spend our money, and think about solving problems. But, without doubt, their most attractive quality is the opportunity they create to scale ideas quickly, in mass, and in comparison to onerous legacy infrastructures, with little capital.
So how do today's digital technologies scale so quickly?
They scale through what is often referred to as a 'network effect.' A network effect is the effect that one user of a good or service has on the value of that product or service for other users, meaning that the value of a product or service is dependent on the number of othe
rs using it. A network effect can take multiple forms, but two are particularly illustrative. The first is a direct network effect, where increased usage by one user immediately increases the value of the product for others. Think of telephone companies. As more people purchased phone lines the more beneficial it became to own a telephone, because the number of people who could be reached through the technology, multiplied. Facebook and LinkedIn services use a similar model.  

Clipped from Dartmouth College Professor Geoff Parker's presentation on Platform Revolution-Ch 02 Network Effect: Power of the Platform


The second form is a two-way network effect, where the increase in usage by one set of users increases the value of a complementary product to a separate group of users and vice versa through a cyclical pattern. Uber is a good example. As the number of Uber riders increase, it becomes more valuable for drivers to hit the road, making the service more accessible for riders and increasing its usefulness, which in turn increases the value for drivers, and so on. Other popular examples of this model include Amazon.com or AirBnB.
Through network effects, companies can grow and scale at an exponential pace. In effect, they are a power law, meaning they are highly exponential in terms of value creation and have the potential to create win-win outcomes for businesses and stakeholders alike. Successful examples of these types of enterprises already exist, such as Biko and The Food Assembly, which work to tackle environmental degradation and support local economic growth through digital platforms.
Therefore, our upcoming test—and great opportunity—as companies, social entrepreneurs, environmental champions or international development professionals committed to addressing society's most pressing problems, is how to design initiatives that harness network effects for the benefit of all our stakeholders.
To paraphrase a powerful figure, may the network effect be with you!

*About the authors
Cesar Buenadicha
César is a Lead Specialist at the Inter-American Development Bank (IDB) in Washington, DC (Multilateral Investment Fund unit).  In his work at the IDB, he has led a variety of programs in digital innovation, sharing economy, crowdfunding, social entrepreneurship and inclusive business in countries throughout Latin American.  He holds a PhD in Economics (UNED, Spain) with the dissertation entitled "Scalability Analysis in the identification and design of Development Projects"; in addition, he holds professional advanced degrees in Law and Economics from the University of Comillas (ICADE E-3, Spain). Before joining the IDB, he worked for ten years in Honduras, El Salvador and Bolivia in microenterprise development and employment programs through Spanish and Dutch National Development Agencies.  Prior to entering the development field, César worked as a lawyer in the private sector for Clifford Chance Law Firm.

Galia Nurko
Galia Nurko is graduate student at Georgetown University, pursuing an M.S. in Foreign Service with a focus on international development and emerging technologies. Previously, she worked as a graduate policy fellow at the Information Technology and Innovation Foundation, conducted research on post-conflict societies, and served as Director of Media Relations at the Embassy of Israel to the United States. Galia holds a B.A. in history from The Ohio State University and is fluent in English, Spanish and Hebrew.

Miguel Aldaz
Miguel Aldaz started his career at the Aragonese Municipalities Association (Spain) with responsibilities that included SME competitiveness and economic diversification. Once at the Inter-American Development Bank (IDB)'s Multilateral Investment Fund (MIF), he was heavily involved in developing the entrepreneurial ecosystem and venture capital industry in Latin America and the Caribbean. His last assignment at the MIF was to lead its Innovation team that piloted and mainstreamed new thematic areas such as inclusive business models and social entrepreneurship. In 2009, Mr. Aldaz assumed the position of Lead Partnerships Officer at the Office of Outreach and Partnerships, the IDB's single window that brings together public and private sector organizations. There, he focusses on linking large corporations' sustainability and innovation agendas with the IDB's mandate with the ultimate objective of achieving the 2030 Agenda for Sustainable Development.
MONEY MARKETS
LET'S START WITH THE FOOD SUPPLY CHAIN
HOW ARE THESE COMPANIES BEING VALUED? LET'S EXAMINE GrocerGram's anniliation of Instacart ...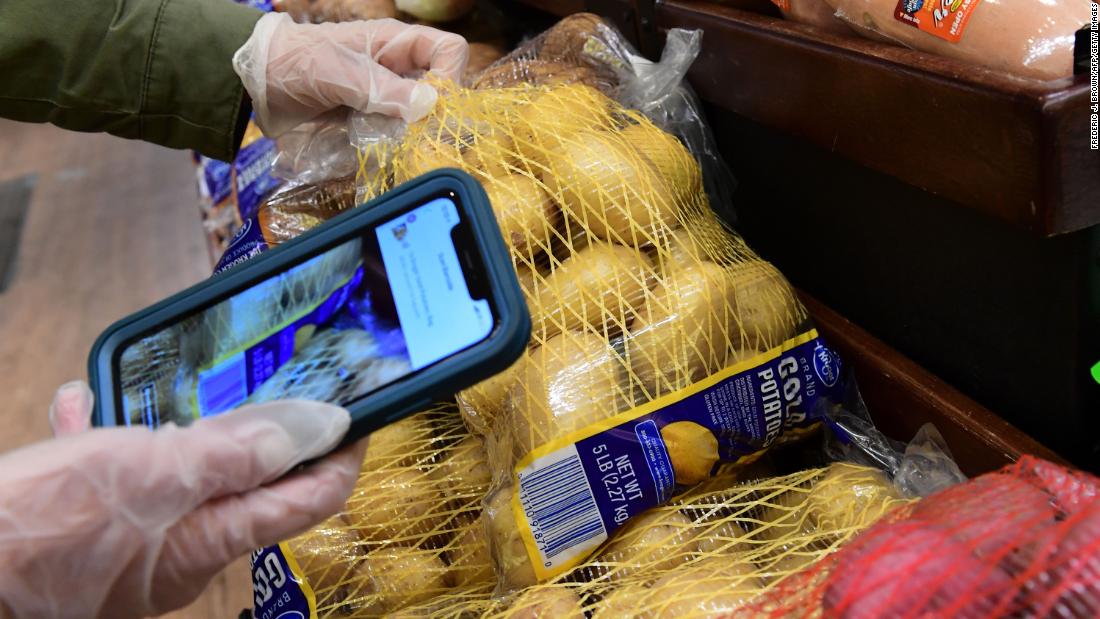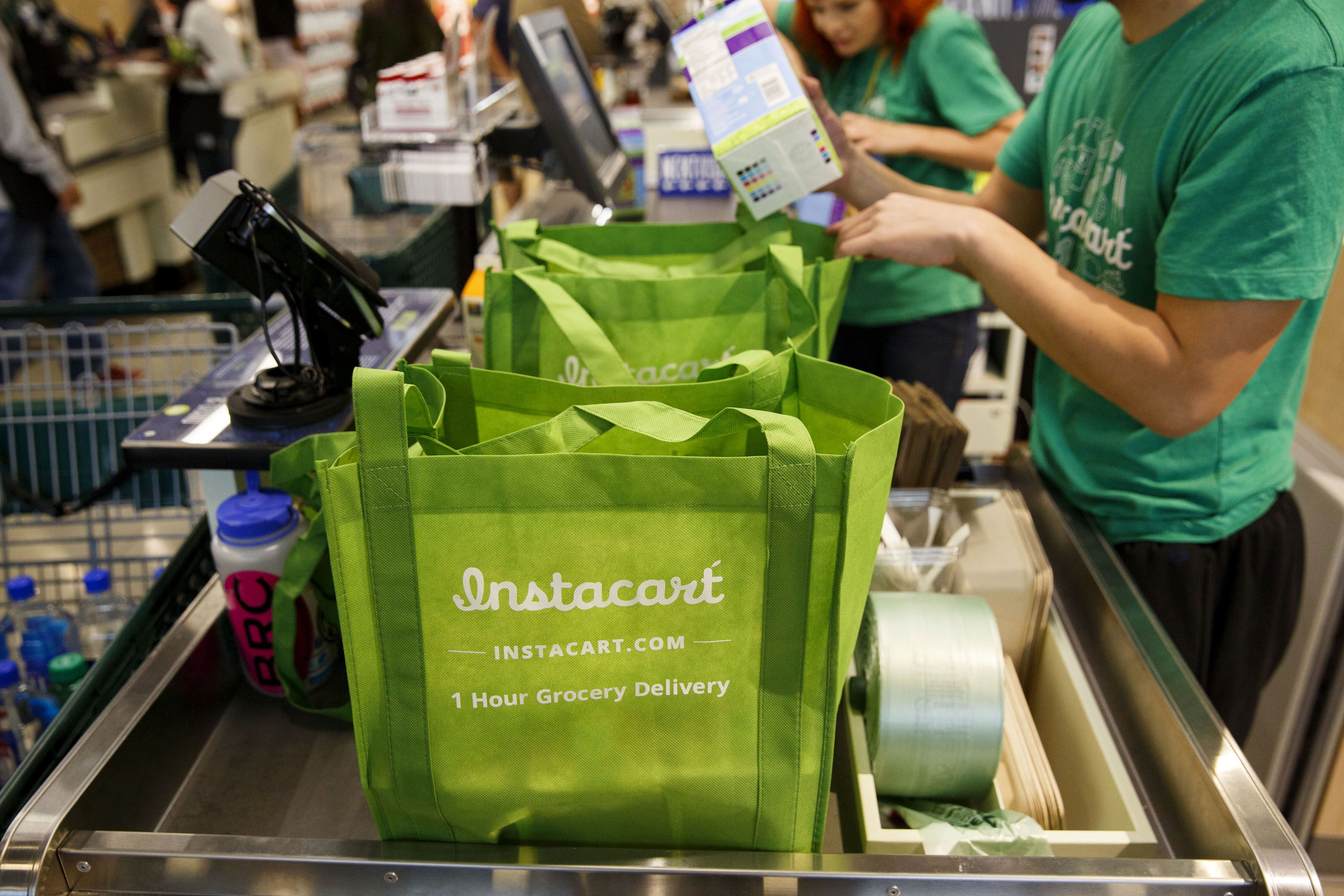 THIS IS A PERFECT EXAMPLE OF OVERINFLATED VALUATION BASED SOLEY ON 9 NUMBERS THE SAME CIRCLE OF FINANCIERS USES FOR THEIR EXCEL SHEETS LOL ITS AN ABSOLUTE JOKE TO HAVE A $25 MILLION DOLLAR A MONTH BURN RATE AND WHEN THE WORLD IS LITERLLY FORCED BY LAW TO USE YOUR PLATFORM ONLY THEN DO YOU ATTRACT INVESTMENT AND ONE IDIOT FOLLOWS THE OTHER INTO THE PONZI SCHEME OF WISHFUL THINKING, HOPEFUL WANTING, AND BLIND HERD MENTALITY OF LOOKING AROUND AT ALL THE BIGGEST NAMES OF THE SUPPOSESDLY BEST AND BRIGHEST BECAUSE THIS IS ALL WAY TOO COMPLICATED AND YOU JUST WANT TO GET RICH LOL WELL SON LIFE WILL SNEAK UP ON YOU IF YOU BLINDLY FOLLOW THE PACK
https://www.owler.com/company/instacart
https://craft.co/instacart/metrics

INSTACARTS SERVICE IS SHIT, THE CONTACT PHONE NUMBERS FOR HOME DELIVERY USERS IS NEVER ANSWERED AND ONLY IF YOUR HAVING SOME KIND OF PAYMENT ISSUE WITH THE SAME PIN NUMBERED RIPE FOR THE FRAUDING AND CRUSHING STORED VALUE CARD SETTTLEMENT SYSTEM WE WILL REPLACE WITH BLOCKCHAIN BASED IMMEDIATELY SETTLED WHEN RECIEVED IN ANY CURRENCY YOU WISH IN ANY ACCOUNT YOU WISH ANYWHERE IN THE DAMN WORLD REPLACING ALL MONEY REMITENCE / MONEY TRANSER SYSTEMS INLUDING SWIFT WHICH IS A USA WIRE TRANSFER SYSTEM OF ARCHAIR OBSOLTETE QUALITY THE USA USES TO ENFORCE SANCTIONS CAUSING MILLIONS OF WOMEN AND CHILDREN TO STARVE AND SUFFER AND IT ENDS THIS YEAR BYE BYE USD RESERVE CURRENCY BYE BYE PONZI SCHEME INFLATED VALUATIONS FOR UBER AND ANY OF THESE OTHER COMPANIES THAT ARE SUBSIDIZED AT A RUNNING LOSS WITH OMG IT'S LIKE THE USA FRACKING INDUSTRY YOU WILL ONLY END UP WITH A BUNCH OF HOLES IN THE GROUND CHASING INVESTMENTS YOU'LL NEVER CATCH WHILE YOU POSIIN YOUR POPULATIONS DRINKING WATER AND LOSE YOUR INVESTORS CAPITAL THEY COULD HAVE INVESTED ELSEWHERE HAHAHHAHA
ECONOMIES OF SCALE DICTATE THE UNIONIZATION OF GIG WORKER USER POOLS WE CAN LEVERAGE CONSOLIDATED BUYING POWER FOR EVERYTHING FROM HEALTHCARE POLICIES, DENTAL, ALL BENEFITS ARE AVAILABLE, GROUP INSURANCE RATES, FUEL BUYING CLUBS, ANYTHING AND EVERYTHING WILL BE CONSOLIDATED INTO USER GROUPS AND NETWORK EFFECTS WILL CATAPULT US TO NIRVANA WHILE THE COMPITITON IS LAID TO WASTE ....UHHHHHH IM GONNA EAT YOU HAHAHAH SOFT LIKE BABY FOOD YESSSSS.....
What is Instacart?
Instacart is an on-demand grocery delivery platform facilitating doorstep deliveries of groceries and other home essentials in major cities of USA. The technology-driven business model of Instacart boosts of delivering groceries to customers in as little as 1 hour, making it one of the most promising and futuristic company of USA which is based on sharing economy model.
This grocery delivery startup has become so famous in the on-demand sector that a lot of budding entrepreneurs are interested to learn more about Instacart business model and understand its overall working in order to develop the next big thing in the sharing economy. This post from Juggernaut will show you how Instacart works and makes money along with some interesting facts and figures about this $2 billion valuation company.
Founders, Funding received, Facts and Timeline
Instacart was founded in year 2012. It is one of the most recent technology developments which has shaken the world by its business model. Being considered as a leader in on-demand economy, Instacart has received massive funding to expand its grocery delivery operations all across USA. Here are few facts about Instacart:
Founded by: Apoorva Mehta (CEO / Founder) and Max Mullen (Co-Founder)
Funding received: $275 million (Till the mid of year 2015)
Company Valuation: $2 Billion. (As per Jan 2015)
Revenue: $100 million (As of Jan 2015).
Headquarters: San Francisco, California, USA.
The following graphic will help you understand the quick growth of Instacart.
The amount of funding received by Instacart clearly shows the trust of investors in this start-up and its projected future. To understand what makes Instacart a promising company, let me quickly take you through the salient features and the value propositions of Instacart. Thereafter, we'll move on to understand Instacart's core working and its customer segments.
Salient Features of Instacart:
Available in major areas of the USA including SF Bay Area, San Jose, NYC, Brooklyn, Washington DC, Philadelphia, Boston, Chicago, Austin, Seattle and Los Angeles.
A collection of over 300,000 items from several stores such as Whole Foods, Safeway or Costco enabling customers to place orders from their favourite store or to mix items from different stores into one order.
Crowdsourced Marketplace model with users being connected to personal shoppers who shop for ordered items and deliver them to the customers.
Value Proposition:
Tie-ups with existing supermarkets
Willing part time workers and their cars
Vast inventory
Extremely quick delivery
No warehouses
No shiny delivery trucks
Instacart's 3 Customer Segments Explained:
Users:
They have an app from where they can order groceries by choosing one or more stores.
They can even order from a desktop or laptop using a web based interface.
Users pay online for their order and can tip their shopper in advance during check out.
Option to shop from any of the available stores in their area. An order can even be placed by combining items from different stores.
Users can schedule orders for a specific day and time.
Shoppers:
Shoppers receive orders on their smartphones.
Shoppers are stationed near the stores in order to save time.
They pick up the ordered items manually and deliver it to the customer.
Apart from the per hour pay, shoppers often get a tip from customers.
Stores:
Instacart has tie-ups with major superstores in various cities.
These stores have been able to increase their revenue through online sales via Instacart.
Instacart Business Model Canvas
The 4 step model about How Instacart Works:
A customer places his order for groceries and pays online to instacart.
A personal shopper receives the order and starts collecting items as mentioned in the order.
Shopper pays the bill through Instacart's prepaid debit card which is accepted at the store.
The shopper then goes to deliver the groceries to the customer as per the address mentioned in the order.
Any tip paid in cash at the time of delivery directly goes to the shopper and the tip paid to shopper during checkout gets accumulated in his Instacart account and is paid at the end of the week along with the salary.
Instacart revenue model – How it makes money?
Delivery Fee
Every order processed by Instacart which is above the value of $35 attracts a standard delivery fee of $3.99 for a scheduled or 2 hour delivery and $5.99 for a 1 hour delivery.
Orders under $35 value are charged at $7.99 for a scheduled or 2 hour delivery and $9.99 for a 1 hour delivery.
Membership Fee (Instacart Express)
Instacart offers an annual membership by the name 'Instacart Express' priced at $99. Users having this membership can get free delivery of groceries for full 1 year with few terms and conditions.
Mark up prices (15%+ more)
Some stores selling their products on Instacart offer the same prices as their in-store prices but few stores listed on Instacart have a mark-up of 15%+more from their in-store prices. The revenue from these mark-up prices goes to Instacart which helps them pay the shoppers.
How Instacart finds customers?
Word of Mouth Advertising
Internet Marketing
Free first delivery
Various offers
The process of Recruiting Shoppers:
Application are invited from individuals who want to earn money by shopping in their free time.
Applications are processed by the recruitment team and a face to face, one on one  interview is scheduled.
Proper training is provided to selected individuals before they are ready to shop and deliver groceries.
Key Problems and Solutions:
Shopper Retention
As all shoppers work part time, it is difficult to retain them for a long time. To enhance the earnings of shoppers, Instacart added an option to pay tip to a shopper in the check-out section of the website.
Reduce Delivery time
Delivering groceries within 2 hours was a challenge for Instacart. To reduce the delivery time, Instacart places its shoppers outside the stores where it has tie-ups. Whenever a shopper receives an order, he is already at the store saving him 50% of the time.
Shopper Shortage
As Instacart shoppers work as freelancers with flexible schedules, it is difficult to manage the freelancers fleet and assign instant tasks to them. To deal with this problem, Instacart introduced a "busy pricing" policy by which it adds few dollars as delivery charges to a customer's bill depending on how busy its shoppers are. A part of this additional price is also paid to the shoppers so that they can work as quick as they can.
Customer Trust
Customers lost their trust in Instacart when they came to know that the company is putting up its own pricing for products. These prices are marked up from the in-store prices. Instacart soon admitted to the marked up prices. However, few uses might have stopped using Instacart due to this, but majority are ready to pay the mark-up prices in order to get groceries at their door step.
Wrong item Delivery possibilities
Sometimes a shopper picks up the wrong item and delivers it. To handle all such issues, Instacart has a dedicated support team which can be reached over the phone or through email. Refund is processed if the personal shopper misses an item in the order list.
Out of stock items
Sometimes, Items in the shopping list go out of stock. In such cases, shoppers replace the non-available items with similar items that are available, which might not be wanted by the customer. To deal with this problem, Instacart allowed customers to add notes and they also added a "often out of stock" button on such items for the reference of customers.
The Future:
Grocery delivery business has a great future as more people want the most easy and convenient way to buy grocery items. Promising delivery within 2 hours, instacart has become a powerful solution in the US and with $275 million funding, it is ready to take on other cities in the USA as well as expand outside the country. Forbes has ranked Instacart at the Number 1 spot in the list of America's most promising company.
So now you know how Instacart works.
Instacart Value Skyrockets To $17.7B With $200M Funding Round
ByPYMNTSPosted on October 8, 2020
Unicorn delivery app Instacart has raised $200 million as part of a new financing round, which upped the company's valuation to $17.7 billion, the Silicon Valley startup announced on Thursday (Oct. 8). The new round of funding came from existing investors Valiant Peregrine Fund and D1 Capital Partners.
The company has raised more than $2 billion since it was founded in 2012 by Apoorva Mehta, Brandon Leonardo and Max Mullen. Instacart's valuation has more than doubled since the COVID-19 pandemic caused more people to shop online and from home.
"Instacart has gone from a convenience to a lifeline for millions of people," the company said. "Today's investment comes as consumer demand for Instacart's service continues to grow and we continue to expand our marketplace with new and existing retail partners."
Instacart said it has already surpassed its 2025 milestones and is tracking to exceed $35 billion in grocery sales in 2020, according to a Bloomberg report. The company partners with over 500 retailers and delivers goods from nearly 40,000 store locations across the U.S. and Canada.
The latest funds will likely be used for product development, new features and enhanced tools to benefit customers. The company also said money would be earmarked to expand Instacart Enterprise, which supports retailers' end-to-end eCommerce needs. There are also plans to connect Instacart Ads to consumer packaged goods (CPG) brands.
The startup also recently partnered with Mastercard to offer incentives to customers with annual Instacart memberships. In September, Instacart joined up with 7-Eleven and anticipates a nationwide rollout to over 7,000 stores nationwide. Other convenience stores are also being added.
Pandemic aside, it is expected that home delivery groceries and other goods will be a long-term trend that will expand beyond food and groceries.
CANADIAN PARTNER(S) HOPEFULLY
http://s1.q4cdn.com/326961052/files/doc_financials/2017/annual/5.-Loblaw_2017-AR_Eng-LR.pdf